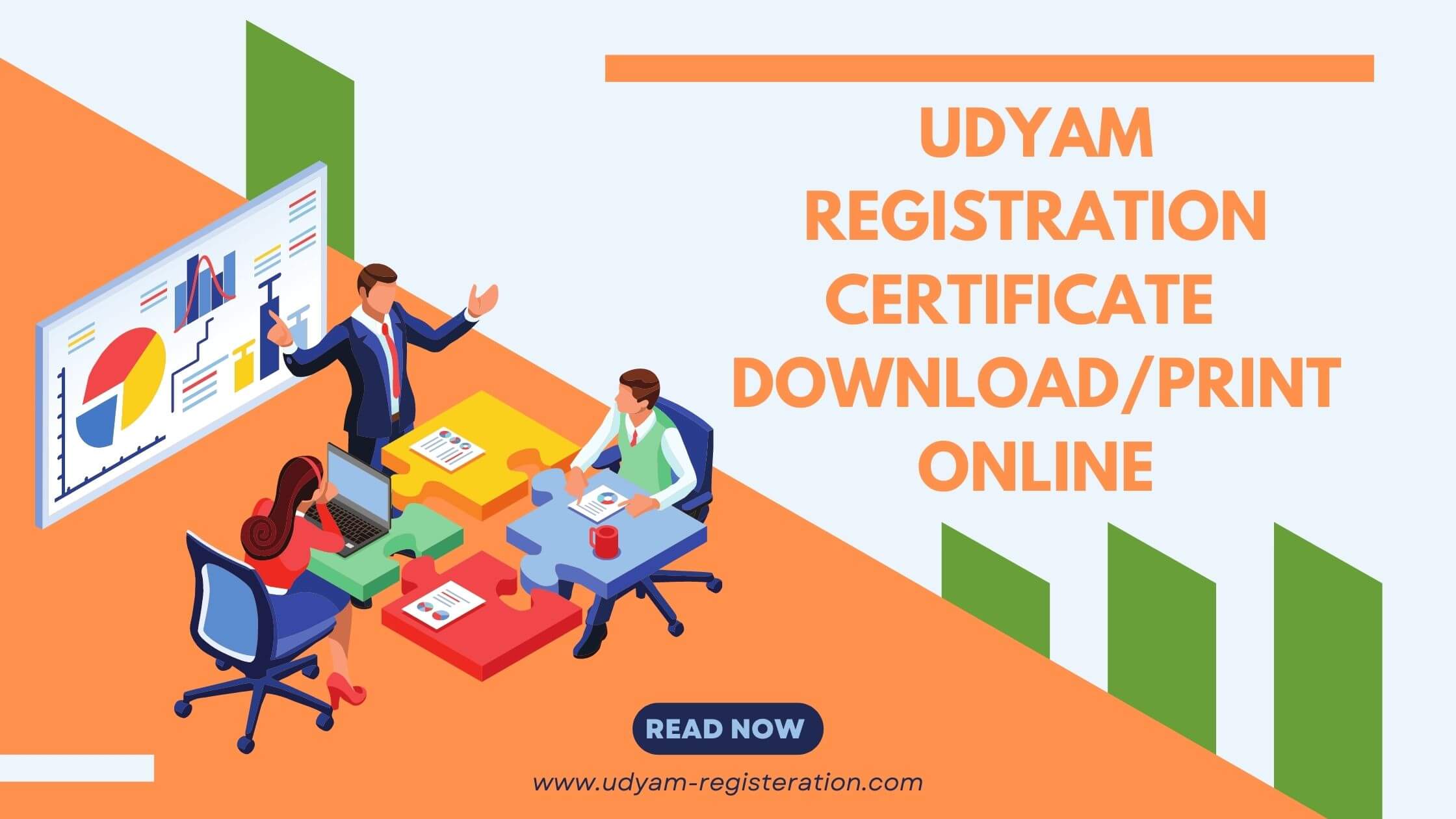 Download/Print Udyam Registration Certificate Online
The new registration process for micro, small, and medium-sized enterprises ( MSMEs) under the name Udyam Registration was initiated by the Government of India on 1 July 2020. It will now be known as Udyam, according to a notification issued by the Ministry of Micro-Small and Medium Enterprises (MSME) on 26 June 2020. As of 1 July 2020, the new registration process has begun. The MSME registration process has now become simpler following the implementation of Udyam registration.
Check Udyam Registration Sample Downloaded Certificate
The Udyam Registration Certificate can be downloaded with lifetime validity once the registration process for the Udyam certificate is over. No renewal is required once you have obtained the registration certificate. You can print the Udyam registration certificate online after you have successfully finished the registration process. Check the sample picture of the Udyam E-Certificate below.
First, you can see the business column categories in which your company can fall under the MSME classification and which industry you belong to.
After that, the Udyam Registration Number (URN) with 14 digits will appear.
Below is the name of the enterprise and information about the address of your business is given.
You will find the registration and the beginning date of your incorporation afterward.
You can now see the classification codes of the National Industry (NIC code). This is the statistical standard for the establishment and maintenance of a comparable database of different economic operations.
Finally, the date of recognition is given.
How to Print/Download Udyam Registration Certificate from Udyam Registration Portal?
You should follow the process below for printing or downloading the Udyam Registration Certificate:
STEP 1: Go to the Udyam registration portal.
STEP 2: Click on the 'Print Certificate' button on the top left of the navigation screen.
STEP 3: Now enter the number of 14 digits of Udyam Registration 14 and press the "Validate and Generate" button.
STEP 4: Your registered mobile number will be sent with One Time Password (OTP).
STEP 5: Complete the OTP and click on the button 'Validate OTP & Print'.
STEP 6: You will then be automatically guided to the certificate print or download page where you can download the Udyam E-Certificate Registration.
If you face any problems with the printing of Udyam registration certificates, then you can contact us. Our expert will contact you soon
Conclusion
It is important to note that the Udyam Registration Certificate is an important document for MSMEs to avail of the schemes and benefits provided by the government. It is also required for various legal and financial transactions. Therefore, it is necessary to preserve a copy of the certificate.
Lastly, the Udyam registration process is mandatory for small and medium enterprises in India and the registration certificate is an important document to avail of government benefits and schemes. The process to download or print the udyam registration certificate is simple and straightforward and can be done online through us.