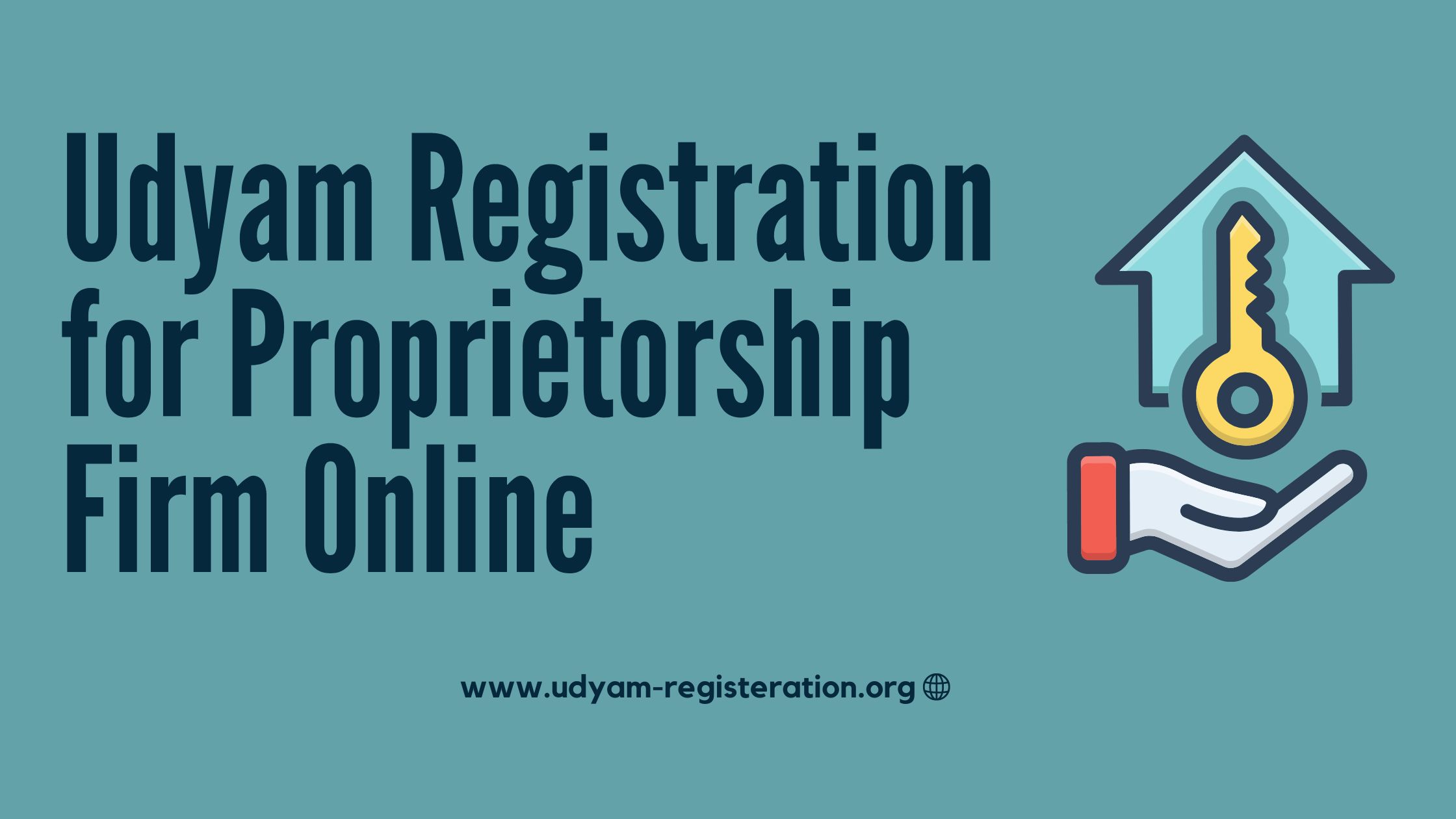 Udyam Registration for Sole Proprietorship Firm Online
A sole Proprietorship Firm is the most commonly available entity in India. So in order to take the benefits of government schemes you have to apply for an Udyam Registration. It is the new MSME system launched by the government of India.
Today in this blog article we will talk about the Udyam Registration for a sole proprietorship Firm and what are the documents needed for it.
Meaning of Udyam Registration
Udyam Registration is a new MSME process for registration that was launched by the Indian Government on 1st July 2020 with the motive of simplifying the old registration process of Udyog Aadhaar/MSME registration.
Know more about Udyam Registration in our complete guide
New Classification of MSME Enterprise
| Enterprise | Investment in plant and machinery or equipment | Turnover |
| --- | --- | --- |
| Micro enterprise | Should not exceed INR 1 Crore | Should not exceed INR 5 Crore |
| Small Enterprise | Should not exceed INR 10 Crore | Should not exceed INR 50 Crore |
| Medium enterprise | Should not exceed INR 50 Crore | Should not exceed INR 250 Crore |
Benefits of applying for Udyam Registration
Only some highlighted benefits of udyam registration are given below which you should Know:
Government Scheme Benefits.

A collateral or security-free loan is given.

Subsidy for bank loan interest, patent and barcode registration, government registration, etc.

Electricity and Water bill payment concession.

Protection from default and delayed payments.

Security provided on ISO certification payments.
The process to Apply for Udyam Registration for a Sole Proprietorship Firm
You can easily register your Sole Proprietorship Firm under Udyam Registration by following the below-mentioned simple steps:
Step 1: First go to Udyam Registration for Sole Proprietorship Firm Page.
Step 2: Fill in all the details correctly given in the form.
Step 3: Make online payment for your udyam proprietorship firm application.
Step 4: Your udyam application will proceed with our expert.
Step 5: Within 1-2 hours you will get your Udyam certificate for your proprietorship firm in your registered email address.
Document Required
Check what documents you need while applying for udyam registration for your sole proprietorship firm.
Aadhaar Card
Goods and Service Tax Identification Number (GSTIN)

Permanent Account Number (PAN) Card
About Udyam-registeration.org
We are a private consultant company doing MSME/Udyam Registration Work for the last 10 years. Our experts are fully trained in the registration process of MSME and work hard to make our clients more satisfied and happy.
If you have any queries regarding Udyam Registration then feel free to contact our customer support team at Udyam-registeration.org