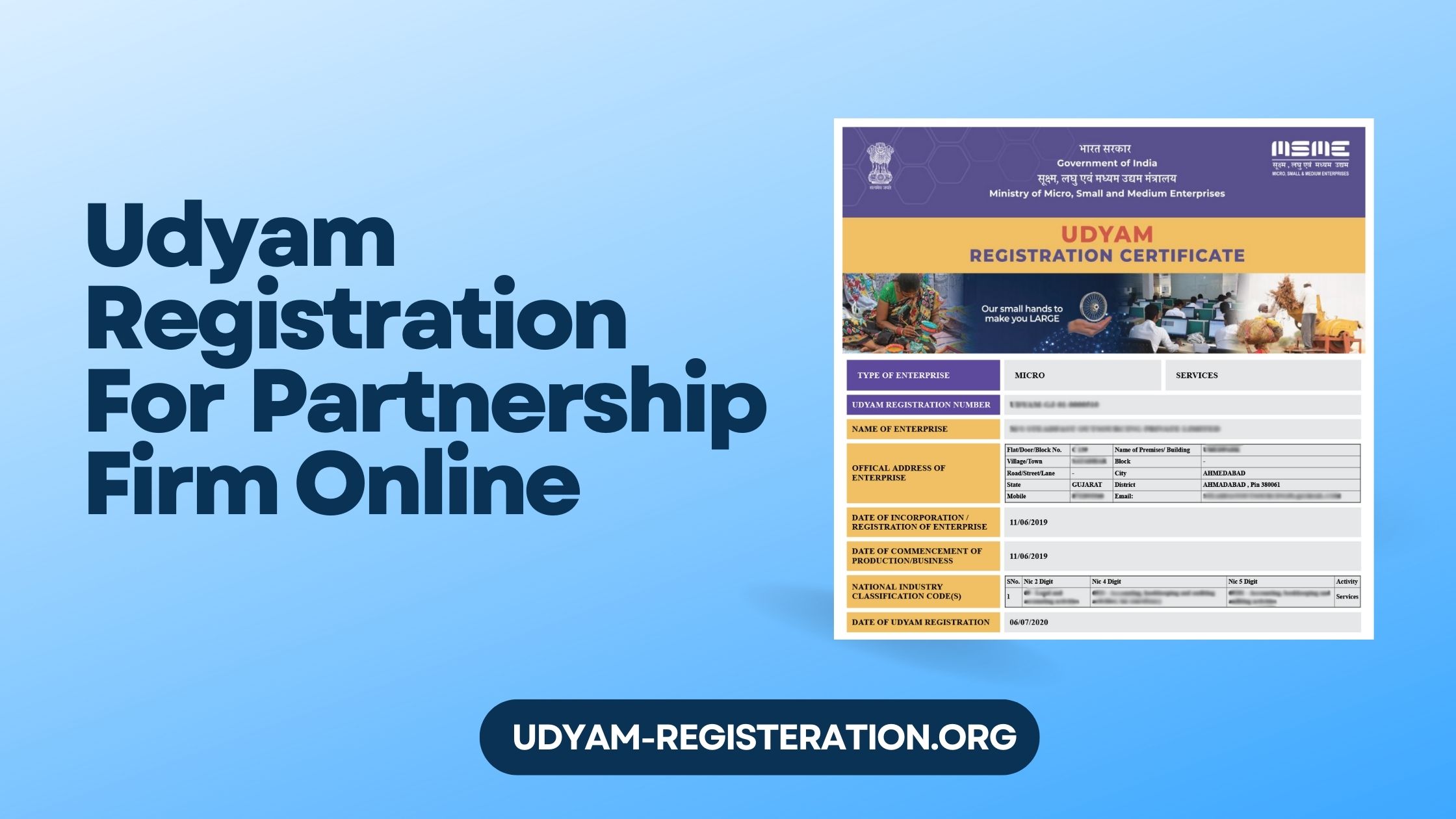 Udyam Registration For Partnership Firm Online
A Partnership firm is an organization that is run by two or more people. People who have collaborated with each other to carry on a venture are individually referred to as "Partners"; collectively referred to as a "Partnership Firm". Udyam Registration for Partnership Firm can be done online at udyam-registeration.org
What is Udyam Registration?
The Government of India has started a new process to register MSMEs in India known as Udyam Registration. The new registration process is online and is completely based on a self-declaration basis which makes it easy for newbie entrepreneurs to register.
How to Apply For Partnership Firm Online?
Here is the process you have to follow to get a Udyam Certificate for Partnership Firm
Step 1: Visit Udyam Registration Portal
Step 2: Enter the required information in the application form.
Step 3: Make the payment online for the process of the Udyam application form.
Step 4: After the process one of our experts will process the application.
Step 5: You'll obtain your Udyam Certificate with your personal Udyam number in your registered email address within 1-2 days.
Benefits of Udyam Registration for Partnership Firm
Electricity bill Concessions.
It helps in getting Government tender Online.
Helps in getting low-rate interest bank loans.
Can participate in international trade fairs.
15 percent import subsidy on bank loans on fully automated machinery
Registered as Udyam MSME, the company receives tariff subsidies
Collateral-free loans from banks and financial institutions
Protection against payments that are overdue
In the production/manufacturing market, exceptional beneficial reservation policies
Registrations, permits, and permissions are quickly obtained.
CLCSS (Credit Related Capital Subsidy Scheme) is eligible for Udyam Registered Enterprise
Apply Online For Proprietorship Firm Now
You must have understood the registration process after reading this post, and the advantages and importance of getting an Udyam Registration Certificate for your company as a Partnership firm.
udyamregisteration.org has a team of professional consultants who will process your application without any error. We also provide various services so that startups and entrepreneurs can register easily and with a trouble-free process. You just have to fill out the form and leave the rest in your hand.
If you have already registered your Partnership firm under MSME, you can also re-register Udyam Registration for Partnership Firm.
If you still have any complaints or inquiries contact us on our page or you can also
Follow us on our Facebook Page: udyam-registeration.org