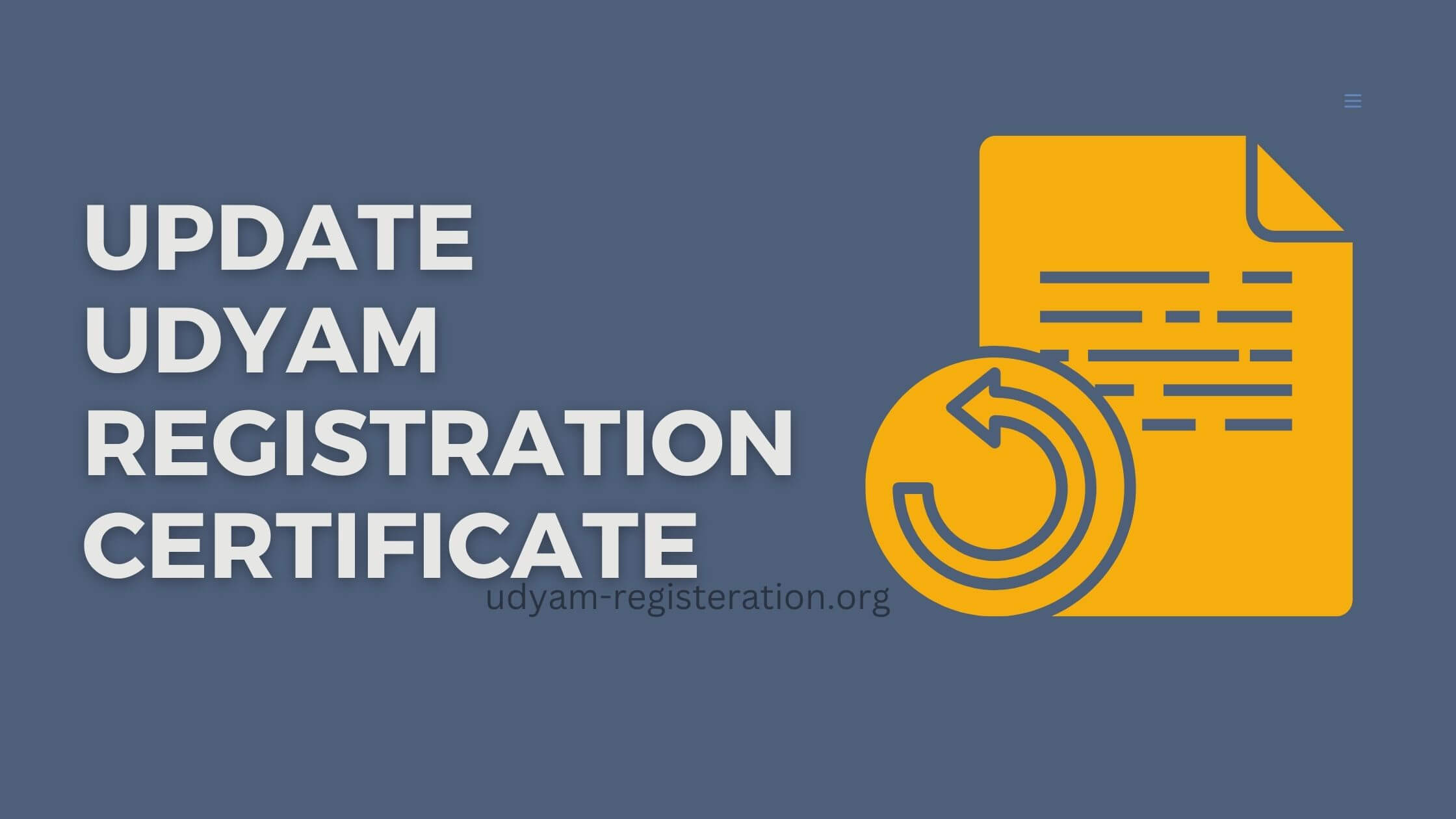 How To Update Udyam Registration Certificate?
With the implementation of the new MSME process Udyam Registration, many problems arise that are faced by the users and one of the main problems is updating Udyam Registration Certificate.
In previous Udyog Aadhaar, you can easily update your certificate with your Udyog Aadhaar Memorandum (UAM) number, if by mistakenly gave the wrong details during the time of registration.
On the government Udyog Aadhaar website, there is an option provided for the update but now in the new Udyam registration portal, there is no such option given for Udyam Registration Certificate Correction. So this means that you cannot Update your details. Just don't worry the government will soon give the option for the Update on their official website.
The government has now updated the option for Update Udyam Registration Certificate.
Why do you Need to Update your Udyam Certificate?
If your details do not contain correct information in your udyam registration certificate, you are unable to take advantage of government benefits or unable to apply for an MSME loan.
For this purpose, you need to update your Udyam registration certificate to get government benefits or apply for MSME loans. We have given all the information below about the udyam certificate update.
Click the Link to Update your Udyam Certificate - https://udyam-registeration.org/update-udyam-certificate.php
Requirements for Update Udyam Certificate
You can go through the below-mentioned requirements to update your Udyam Registration Certificate.
Udyam Registration Number (URN).
The mobile number that you have filed with your Udyam application. ( for OTP verification).
Details that cannot be Updated
These are the following details that cannot be updated in your Udyam Registration Certificate.
Name of the Applicant
Aadhaar Number
State & District
Note: Other than the above-mentioned items all the details can be changed.
The process to Update Udyam Registration Certificate
You can go through the below-mentioned simple and easy process to update your Udyam Registration Certificate online:
Step 1: First go to the Update Udyam Registration certificate page.
Step 2: After entering your 16-digit Udyam Registrations Number and details to update, submit the form.
Step 3: Then choose the option for OTP i.e. mobile number or email address (as per your certificate).
Step 4: Make the payment online for your applied update application.
Step 5: Provide OTP to our representatives and just after receiving OTP your application will be processed.
Step 6: Within a few, you will get your updated udyam certificate via your registered email address.
NOTE: Once you receive OTP in your Registered mobile number or Email address as per your selection you have to share it with our representative.
If you want to Update your old Udyog Certificate then you can visit our Update Udyog Aadhaar Certificate Page.
If you have till now not registered under MSME as udyam then you can just refer to the below-mentioned process for Udyam Registration.
Register for Udyam Registration with udyam-registeration.org.
Note: Visit Udyam Registration Page to register Under udyam and for re-registration just go to our Udyam Re-Registration page.
Why us?
The government registration process is hard and not easily understandable by the first-time user so we help these users by making their work easier for them and saving them time also. Our experts have many years of experience in this field.
If you have any further queries then just fill out the complaint form at @udyam-registeration.org and we will contact you soon.